Group Painting
Building upon her time spent instructing a mixed media paper collage class at the Colorado Free University, Brenda has conducted workshops for groups who gather to enjoy the fun and various benefits creating freely can bring, such as healing.
Paint for Joy – Dinner and Paint Fundraiser
Brenda recently led a painting workshop for over 90 people to benefit Joy's Kitchen Food Pantry, a food rescue ministry in her community. Wooden signs were painted after a wonderful meal was shared. Participants were provided with a wood palette sign, paints, brushes, stencils and pencils while enjoying good brew among family and friends.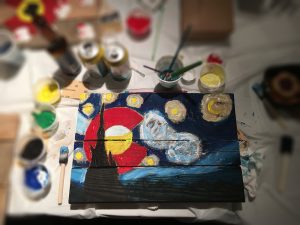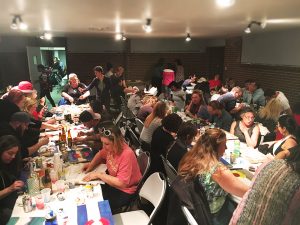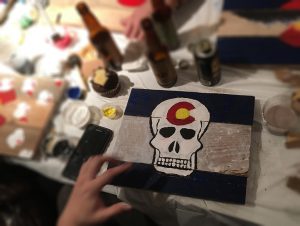 Future Events:
Route 91 Harvest Festival Survivors Paint Night – Fall 2019
Inspired by a close friend who survived our nations worst mass shooting, on October 7, 2017, the healing power of art will bring a Colorado group of Las Vegas shooting survivors together for shared support, love, and connection.
The details of this event are underway. A link with information will be available once the venue is set.