Shows/Exhibitions
Previous Shows
Handmade in Colorado Expo 2019
Gilpin Arts 70th Annual Juried Exhibition
Evergreen Fine Arts Festival
Foothills Fine Arts Festival
Main Street to the Rockies Art Festival
Beginning as a hobby and respite on a small card table in the basement of her home, when a close friend encouraged her to show her work, Brenda debuted her artwork in 2014 at her children's elementary school craft fair. Anxious at first because her work was different, she was received well. After two years at this small event, Brenda approached a local gallery for Colorado artisans, and her artwork has been available at A Touch of Colorado in Lakewood's chic Belmar shopping district ever since.
An anonymous donation toward an art entry fee in the Spring of 2017 gave her the courage to apply and be selected for her first juried show. In Summer of 2017, two of her three entries were welcomed in the Gilpin Arts 70th Annual Juried Exhibition, the longest annual juried art show in the West. Since then she was invited to be the premier artist featured at a First Friday Artwalk in Colorado Springs.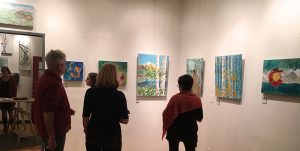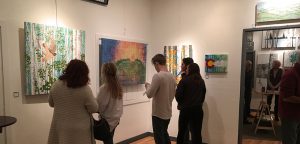 Most exciting of all, Brenda was commissioned to create work for production of an Artists Series clothing accessory, being sold in retail shops at all Vail Resorts-owned ski facilities in North America during the 2018-2019 winter season.
August 2018 brought her first festival, in the Emerging Artist category at the Evergreen Fine Arts Festival. The experience gave her the confidence and courage to show in the Foothills Fine Arts Festival in Golden, and the Main Street to the Rockies Art Festival in Frisco, Colorado Summer of 2019. With aspirations to show in the Cherry Creek Fine Arts Festival someday, it will be exciting to see what the future holds for this unique, self-taught artist.