For the majority of Brenda's life, she never considered herself an artist. She has always been a creative person and explored several other mediums outside of paper collage beginning in high school. A ceramics class realized the fulfillment found in making things with one's hands. Soon, Brenda was making jewelry and handmade greeting cards, painting with watercolors and decorating elaborate cakes. Every Christmas family members received handmade creations. She still didn't believe she draw…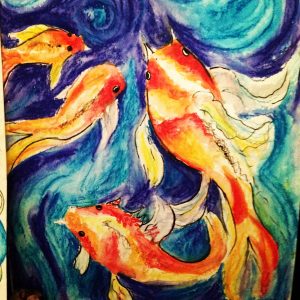 At age 36, Brenda had a hand surgery that forced a sabbatical from life as a wife and mother, and fostered an unusual amount of personal time. It was then that a simple watercolor crayon doodle reignited the crave for creativity. It took 9 months before she began creating art on a regular basis, that simple doodle began her journey of pursuing time for her passion and being bold enough to share it with the world.
Because of this Brenda knows that everyone has a creative vibe in them. But for many it was squashed as children and people often think, "I could never do that." Brenda thinks you can be creative. Brenda believes wholeheartedly that anyone can bridge the fear that prevents many of us from even trying. Her journey has plotted the course to discovering your own creativity – the innate desire and capacity to make beautiful things.
Ready? Here it is: By taming the habit of comparison to others, banning self-criticism and giving yourself permission to risk delight, you too can unlock your inner artist.
A few times a year, the artist conducts a creative workshop to experience and experiment with the spontaneous and dynamic medium that Brenda has honed during 4 years of creating in this style. The learning environment will be a inspiring zone where we can set the self doubt on the shelf and be free to explore without fear.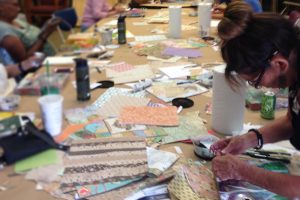 The workshop will take place in Brenda's home studio, where there are thousands of papers and dozens of fine-art grade inks and stencils for students to utilize. The artist will provide your materials and aid with all aspects of the creative process, including project ideas and concepts, technique and the application of mediums. With the workshop capped at 6 participants, the intimate setting guarantees ample personal instruction, with memories created alongside your art. Bring a reference of what you would like to collage, and together we can create your own mixed media paper collage artwork!
Details available Summer 2019.